Great couple, unique venue, eclectic music, food, drinks and so much fun! Lily & Jesse's wedding + reception yesterday at The Elm in Hampden was hands down one of my favorites of 2015. From the ceremony prelude to the very last song, everything was just about perfect. The Beatles Abbey Road album in it's entirety greeted guests as they found their seats for the ceremony. After saying "I do", the bride & groom led their friends and family inside for cocktails and great eats provided by Clementine Restaurant of Baltimore. Once inside guests got a look at this one of a kind venue. Built in the 19th century, Hampden's mills led sales for the nation's cotton duck-canvas for tents and sailcloth. The Elm, situated in the original mill village, is the area's only surviving carriage house/stable from that era. In the early 20th century, The Elm was an airplane factory that built the Oriole Scout Monoplane, and then a factory for the glove boxes found in Model A Fords.
There was no official first dance or any of the usual, just a laid back and relaxed evening. Lily & Jesse spent some time in the Peace Corp and invited friends from Bulgaria, The Dominican Republic and others from across the globe. The music also reflected this diversity. Aside from some great ethnic music, guests danced to hits by The Rolling Stones, Journey, Outkast, Talking Heads and many more. I honestly haven't see a packed dance floor like last nights in a long time and Photographer Justin Tsucalas of Plaid Photo will have photos to prove it! We ended a great celebration last night with Joe Cocker's take on "With A Little Help From My Friends"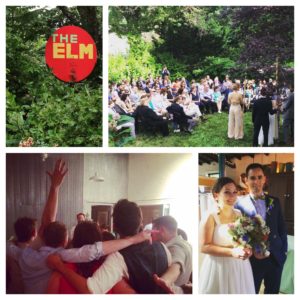 . This DJ/MC had a blast and I'm pretty sure all the guests did as well. Thanks to Lily & Jesse and congrats!